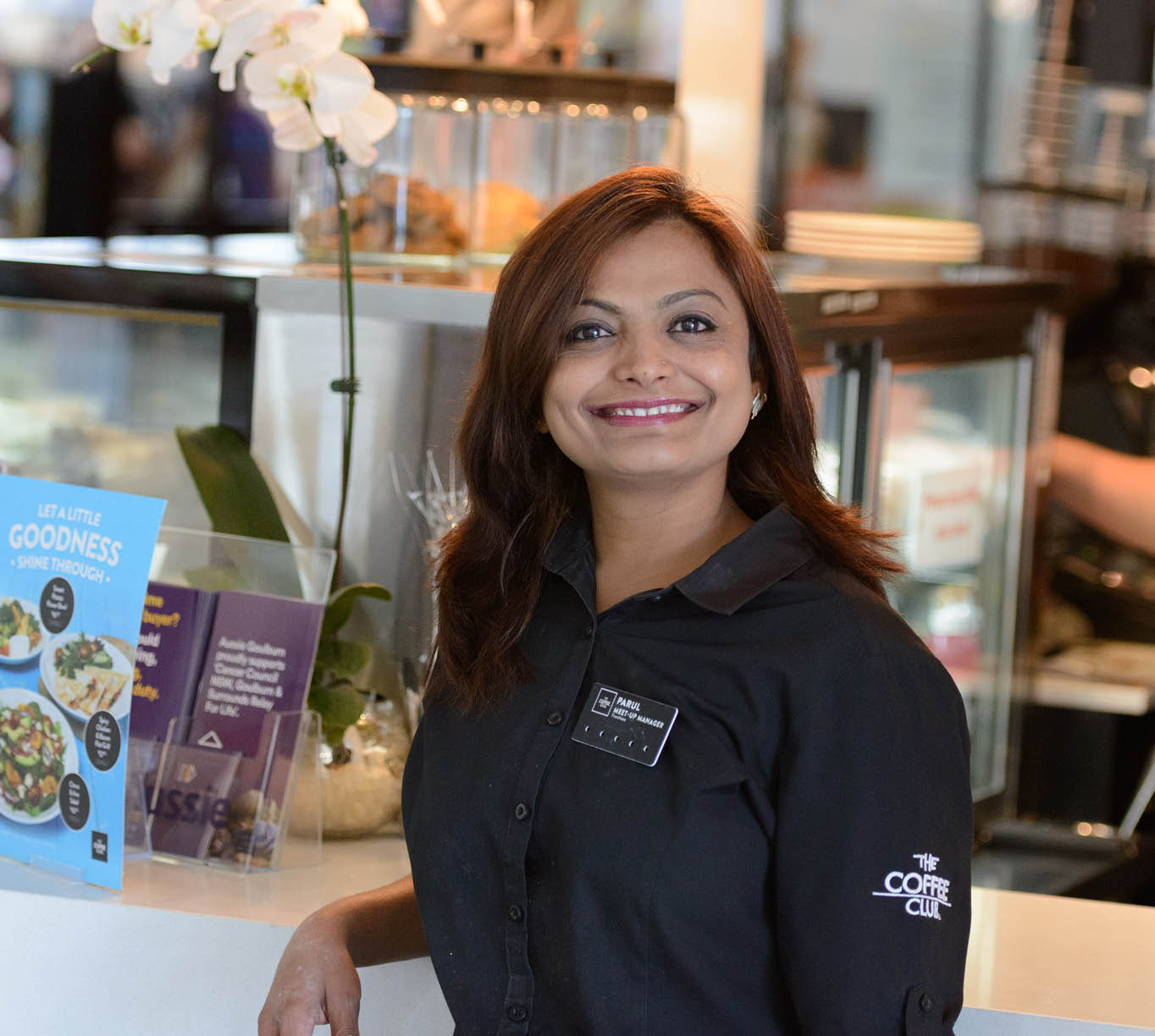 Parul
Tell us a bit about your shop or service: The Coffee Club, Australia's largest home-grown café group, has simple mission and philosophy of Good Food, Great Service and Excellent Coffee, in welcoming, relaxing surrounds, a place to enrich contemporary lifestyles, and most of all, to be the natural response to "Where will I meet you?"
What's in season or really popular right now with shoppers? In current season, our popular items are Eggs Benedict, Chicken Pesto Flat Grill, coffee and chilled drinks.
… and what's your favourite thing instore at the moment? My favorite thing instore is Salted Caramel & Banana Pancake with Cappuccino.
How long have you been working here? I am with the store since its recent inception.
Are you a big or small crew - how many of you working there? We have about 15 employees.
What's the best part of your job? The best part of my job is the customer interaction, making new friends and working with cheerful staff and in exciting environment of the Coffee Club.
What are your interests in life? Any hobbies, interests or mad obsessions? My obsession is dealing with customers, making coffee and spending time with my family.
So, do you think your shop or service helps make customers' lives easier? If so, tell us how Yes, I do. I believe our shop serves best coffee and food in the town, with free Wi-Fi and phone recharge. Our store provides wide menu of various types of food, and hot and chilled drinks. We also provide free babyccino for kids. We have baby chair, and we are able to alter the sitting arrangements to fit customers' requirements. We also offer table order if customer requires. We also serve whole day breakfast and lunch including takeaway service.
Do you have local customers you know by name, or like to have a chat with? Yes, we have lots of local customers, including Ron and his family, Michael, Lani, Lawrence and his family, Wayne, Kat, Josh, Trent, Cindy and her family, Susan (sorry if I have missed anyone), and few regular customers we do know them by their regular orders. We do love them and love to chat with them.
What do you think makes Goulburn Square a great community and/or good place to shop? Goulburn Square is located in main strip within CBD and it is largest shopping centre in the town. The centre is home of 50 retailers included national brands such as Coles, Kmart, Best & Less and major banks.
Name two things you like most about working at the centre. Ample parking in this centre is the biggest advantage comparatively, as parking availability is one of the main problems generally in shopping centres.
Do you have a fave time of year in the centre and if so why? eg celebrations such Christmas, school holidays, a favourite season, or when there's a promotion on such as DollarDash? Christmas time, with complementary School Holidays. It is the time of celebration with family and friends, and lots of shopping!! In this time, the centre with Christmas decorations and ornaments, with twinkling lights make shoppers excited!